Have you watched "King of Collectibles: The Goldin Touch" yet?
It's on Netflix, and it just dropped last week.
In this reality series, ordinary people team up with a famous collector named Ken Goldin to auction off their memorabilia for thousands – and even millions – of dollars.
As Goldin explains:
"We sell the most interesting things in the world from all categories – sports, entertainment, comics, rock-and-roll, movies – and we also deal with an incredible cross-section of celebrities, athletes, serious collectors as well as individuals who may find that one thing that's going to change their life."
Ready to potentially change your life?
Let me show you how.
An Alternative to Stocks and Bonds
To set the stage here, let me explain how the rich invest.
As I've explained in recent months (for example, here and here), the rich invest differently.
They don't have typical 60/40 portfolios. And this difference might explain why they keep getting richer.
You see, according to the Motley Fool, the rich mainly invest in "alternative assets."
These alternatives include private startups and private real estate deals – the kind we focus on here at Crowdability.
But they also include collectibles like the ones Ken Goldin focuses on.
The 'King of Collectibles' – Bringing Memorabilia to the Mainstream
With his new show, Goldin aims to bring the concept of collectibles to the masses.
And "The King of Collectibles" certainly has the pedigree to make it happen.
Peyton Manning is on board as an executive, it features celebrities like Mike Tyson and Drake, and it's produced by the creator of "Pawn Stars," a wildly successful reality show.
What kind of items does the show focus on? Here are a few of the interesting ones that showed up in the initial episodes:
Lionel Messi 2017 FC Barcelona Jersey
In Episode 2, Goldin showcases a jersey that Lionel Messi wore in a classic match against Real Madrid. With just 30 seconds left in the game, Messi scored the winning goal, ripped off his jersey, and held it up to jeers from the opposing team's crowd. The thing is, his not-so-gentlemanly actions led to an iconic celebration based around the jersey.
The final price for this one-of-a-kind collectible? $450,000.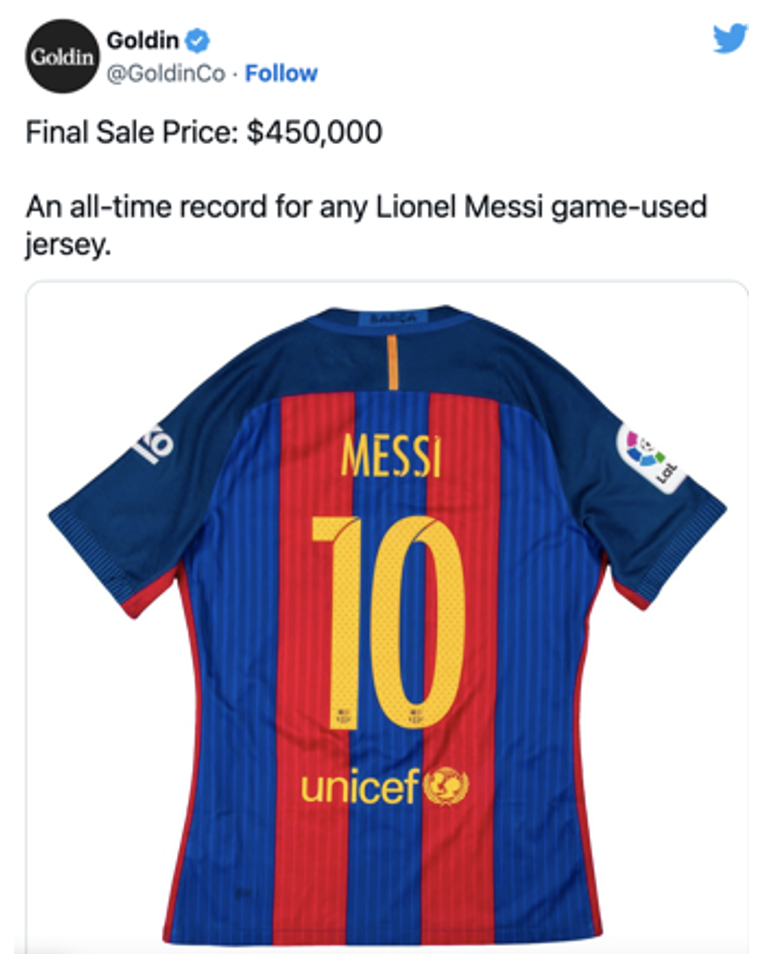 A LeBron James "Patch Card"
The show also features a Triple Logoman patch card of LeBron James. Only one of them exists. It features three Logoman patches of LeBron from his time with the Cavs, the Heat, and the Lakers.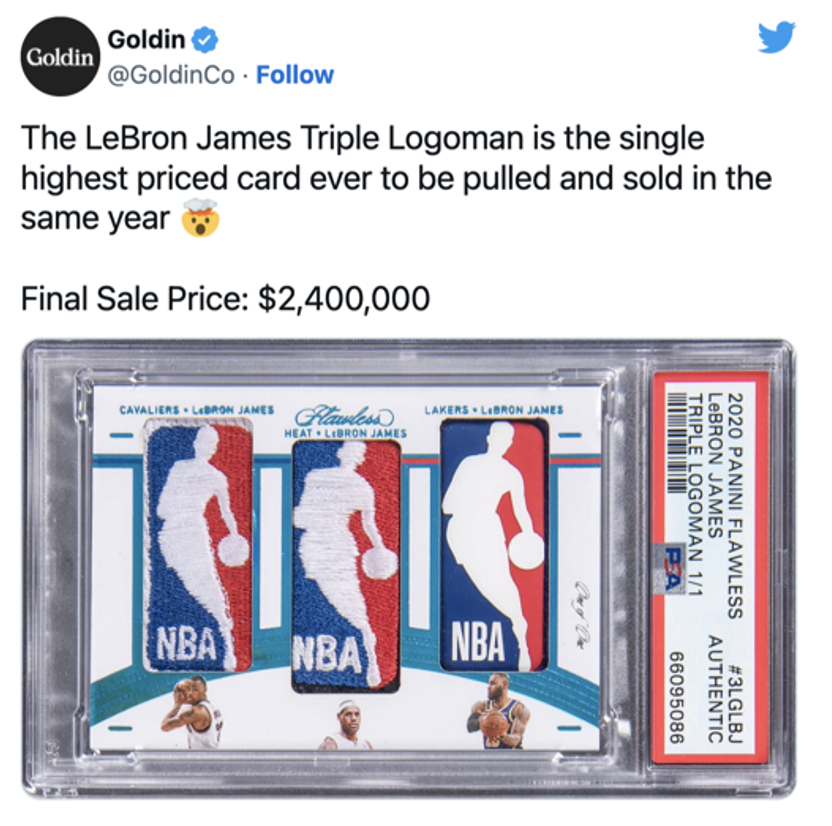 The final price at auction? $2.4 million!
But "The King of Collectibles" isn't all about sports….
The Pikachu Illustrator Card
For example, take a look at this Pokemon card featured in the show.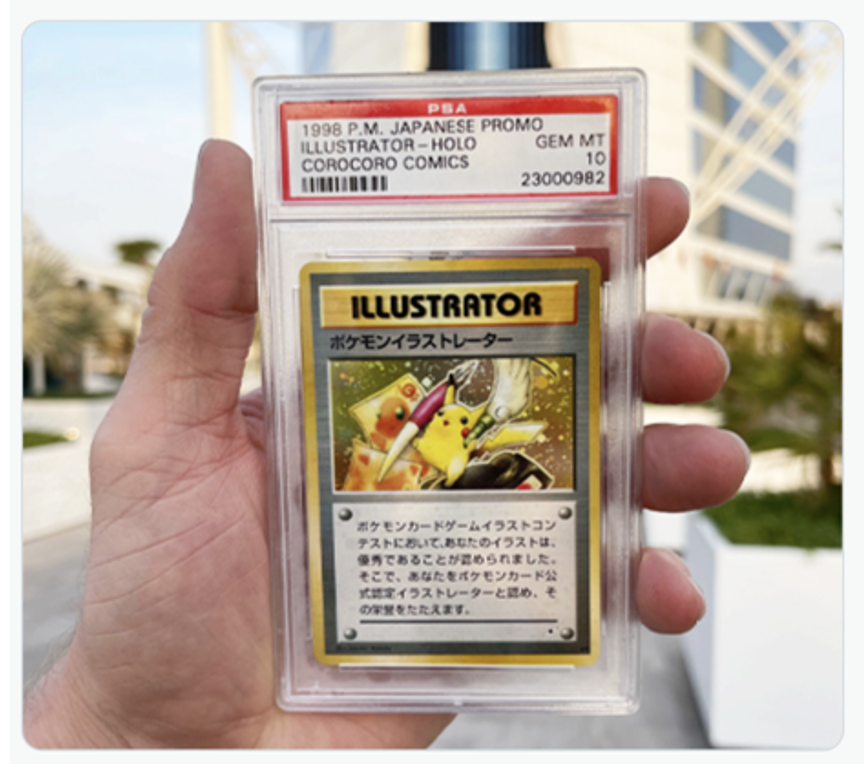 This is the most expensive Pokemon card ever sold – the Pikachu Illustrator card.
Only 39 copies were ever made. And in 2021, it sold for more than $5.2 million!
Soaring Interest in Collectibles
Interest in collectibles has been soaring recently.
As Goldin said,
"You have people who are buying and selling and people buying and putting away strictly as an alternative investment, like with art. You've got dealers, long-term collectors who never think they're going to sell anything, and then you've got people who aren't collectors at all, but happen to stumble upon an absolute hidden treasure or the proverbial Willy Wonka golden ticket."
With all this organic interest – and with all the crazy drama on view in "King of Collectibles" – the show is expected to be very popular.
The thing is, the show's popularity could take interest in collectibles to the next level…
And that's why it might pay to dive into them today…
Investing in Collectibles for $100
Recently, a new type of website has emerged to give ordinary people the ability to invest small amounts of money into collectibles.
Essentially, just like you can buy a $100 stake in a startup, now you can buy $100 worth of a vintage Bordeaux, a classic piece of art from Keith Haring, or a multi-million-dollar watch.
Here are a few such sites worth exploring:
Collectable specializes in sports. Its offerings include everything from a sports jersey worn by Willie Mays, to the sneakers Kobe Bryant wore in his 1996 NBA rookie game.
On Otis, you can invest in baseball cards, limited-edition sneakers, art, and watches.
And on Rally Rd, you can find everything from vintage Porsches to one-of-a kind offerings like the double-necked guitar used by Slash from Guns N' Roses. It also offers a secondary market, so you can aim to sell your investments at any time.
You can invest whatever you're comfortable with – $100 here, $100 there – and when the item sells, you receive your profits in relation to how much you put in.
Beware!
Keep in mind, all the typical caveats about investing apply here:
For example, don't invest more than you can afford to lose; invest in what you know; and be sure to dip your toe into the water before diving in.
Furthermore, many alternative investments aren't entirely "liquid." That means they can't necessarily be converted into cash at the snap of your fingers.
So don't invest your rent or grocery money into these offerings.
But if you're looking to invest like the rich – and you get excited after watching "King of Collectibles" – this could be a worthwhile avenue to explore!
Happy Investing.
Best Regards,



Founder
Crowdability.com